Friday is date day. On the spur of the moment Yvonne said – "Let's do Skyline Drive." It was October, the weather looked promising, so I said – "I'm in!" It took two hours to pack and prep, but we were on our way – no plans, no schedule, no reservations.
No reservations… As we drove up to the ranger booth at the entrance of Skyline Drive, I inquired about the  signpost which catalogued every camp in the park and the repeated word "Full" next to each. The ranger replied, "It's a holiday weekend. Everything was full last night or early this morning." Is Columbus Weekend still considered a holiday?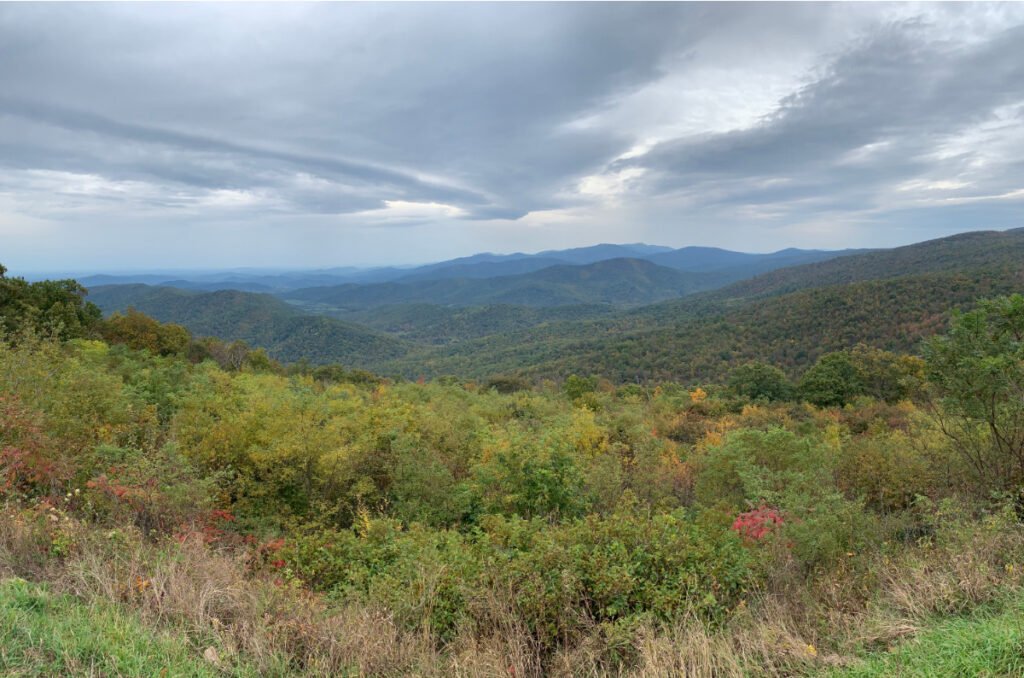 For some odd reason I had thought of pulling out the 'serious' backpacks that morning. I didn't. Was back country camping allowed in Shenandoah? It was! There are some rules to follow…  be at least 1/4 mile from any paved road, 20 yards off any trail, no fires allowed, etc. Ok, we can do that.
Since we had only a few hours till sunset, we thought we'd find a campsite first, and got a recommendation of a trail to check out past mile marker nine. We looked very non-REI as we grabbed pillows, tent, mattress and sleeping bags in our arms and headed down the trail… but we only had to go 1/4 mile. Except the trail I chose headed uphill, was all rocky slope, with not even a 8×8 flat area in view for our tent. After a mile we gave up and headed back, only to realize I took the wrong trail.
Ok, trail #2, without gear this time. Let's find a place first. All downhill now, and wet. Very wet. And muddy. Now it's getting dark and no site found. Back to the car.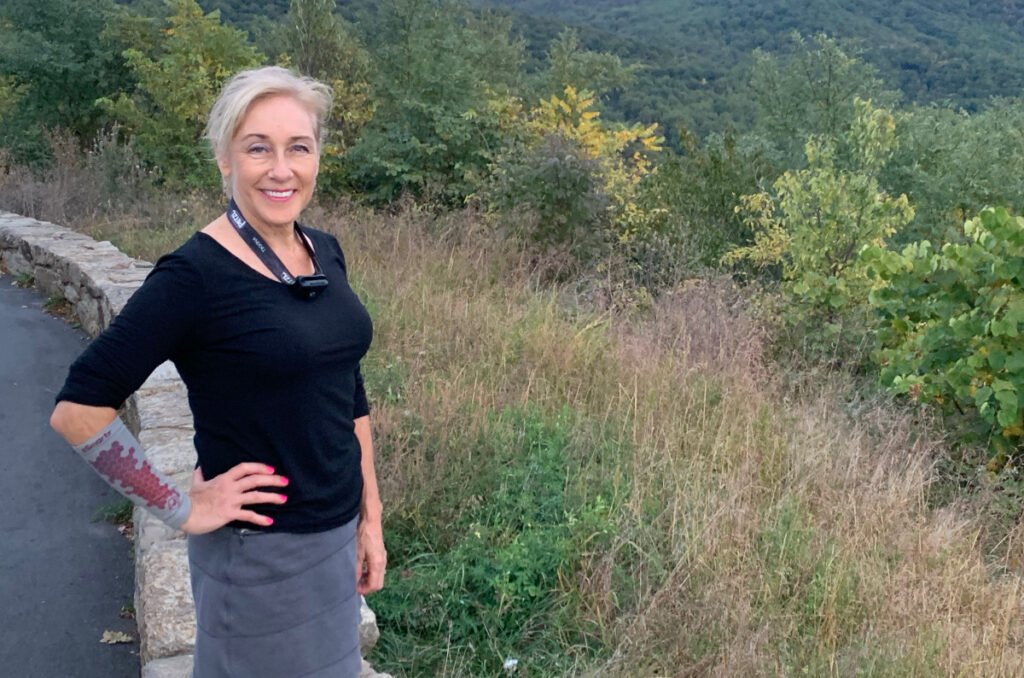 So we had dinner at one of the many overlooks on Skyline Drive while night fell. That was excellent. And driving back to the visitor center we found the bathrooms still open, so we had a place to wash up. I was tempted to pitch a tent in the picnic grounds there, where it says – "no camping allowed." Obviously I wasn't the first one with that idea.
We ended up driving to one of the trailheads, piling all our equipment into the front seats and 'setting up camp' in the back of our SUV. After all, we had recently purchased the larger vehicle just in case we ever faced this dilemma. Sleep was great, and the night was uneventful… mostly.
It took little time to break camp in the morning, with breakfast at another great overlook, and since waterfalls were the day's interest, we noted there was one down the fire road from where we slept. Being early in the day we had the trail mostly to ourselves, and only a mile in were treated to moss covered rocks, falling leaves, and cascading water. Beautiful!
Yvonne has a knack for choosing some ideal adventures, when it seems to me she has little data to go on. But the Rapidan Camp seemed worth the 90 minute drive south to her, so we went. Her thought – if it was good enough for a president, it's probably pretty good. She was right.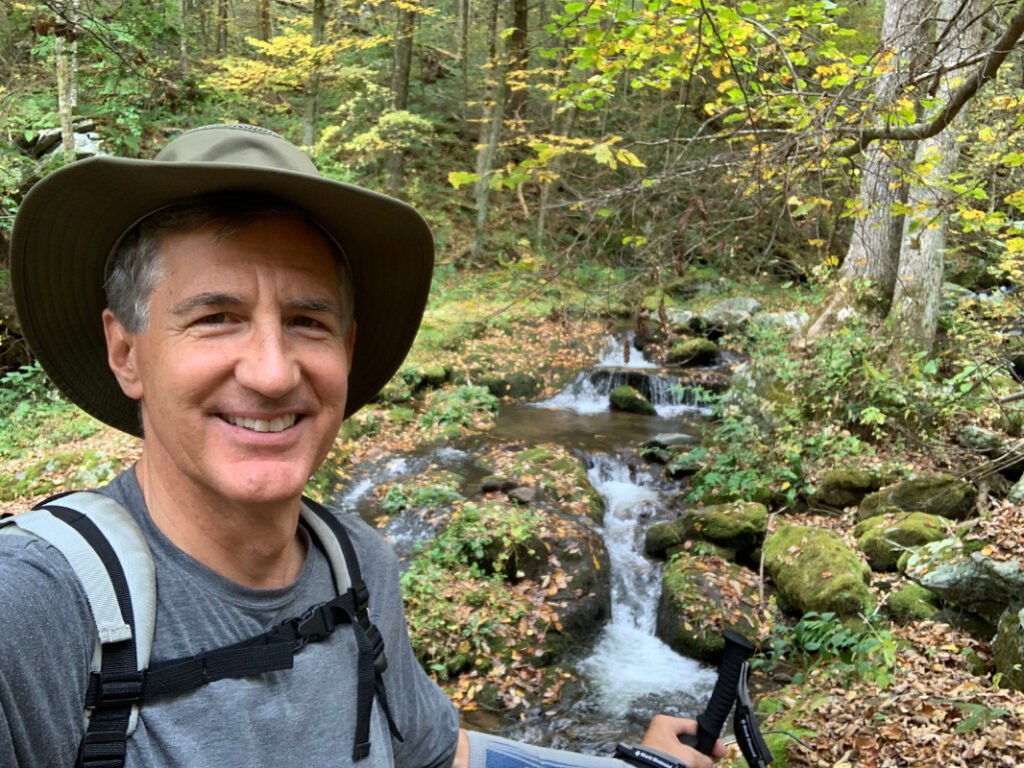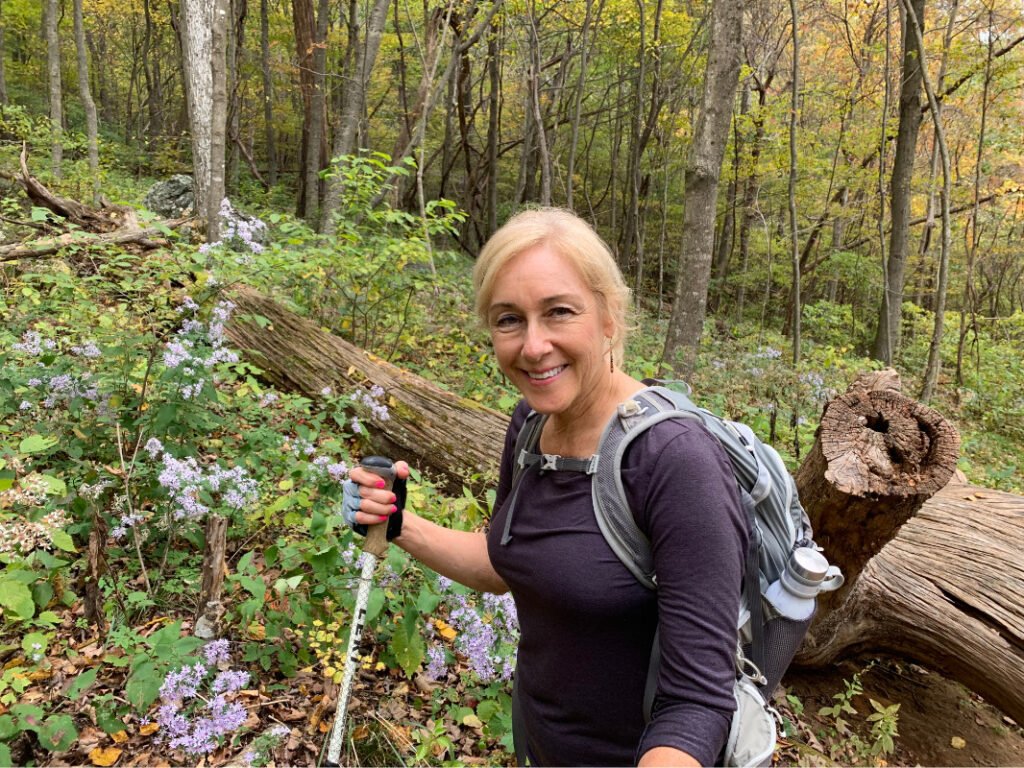 As we hiked I thought, "This is one of the most stunning hikes I've seen," and I've hiked Sedona, Glacier, Bar Harbor and Banff. You can't compare one to the other, but it underscores the surprising joy in the beauty we were seeing. A trout stream followed and intersected much of the trail, with quiet pools, mossy banks, and cascading water. The fall foliage was much nearer peak here at 3000 feet, with golden leaves floating earthward whenever a breeze blew. As a bonus, the park has preserved some of President Hoover's retreat camp at the base of the trail adding a historical perspective to our walk in the woods.
With rain threatening, we hoofed the trail back uphill faster than we came down. And being even farther south, the drive home took us till after dark. But as I reflected on the glorious sights and sounds we enjoyed together after saying, "I'm in!" only 30 hours earlier, I thought, it pays to be spontaneous… and flexible.