Ever since a trip to Prince Edward Island in 2009 Yvonne and I had been wanting to get to Nova Scotia specifically to visit the Cape Breton area and drive the famous Cabot Trail – one of the world's most scenic coastal drives hanging between the sea and mountains. In September of 2017 we finally made it there.
It was everything we hoped for as we camped and did Air B&B through this most northern section of Nova Scotia. For the last night of our stay we needed a place just outside of Halifax to make our flight out the next day less harried.  And so we ended up booking at Dorinda's place – a nice one bedroom apartment connected to her house.
That evening we were talking Tower Gardens, as she was quite interested in the benefits of hydroponic gardening. She then turned and asked – "Would it be ok if I did a quick demo with you?" We were on vacation from a full and active summer, not interested in anything 'new', but we were staying in her house, so yeah, sure!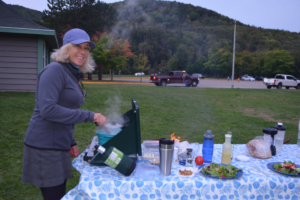 The demo was a simple balance demo: stand like a wooden soldier, arms at your sides, and try not to move while she easily tips you sideways by exerting a little upward pressure to your clenched hand. Fair enough. "Now," she says, "stand on this sock." With shoes removed but still wearing my own socks, I stepped on an upside down sock she placed under the ball of my foot. "Let's repeat the test." We did. She could not move me. I felt like my feet had been grounded in cement. "Do that again!" I said.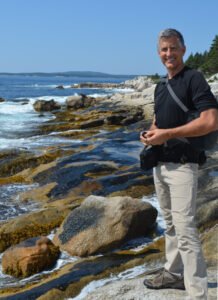 I had her repeat the test three times, while examining the sock in between tests. It was normal material, no wires, etc, but Dorinda explained the stitching sewn in the ball of the foot was a very specific pattern, slightly raised, something the nerves in my foot could not only recognize, but would respond to. Really?? Welcome to neurotechwear.
In layman's terms, problems occur when our nerves are firing too fast or too slow. Since your neurology controls every function in your body from perception to strength to pain to balance, the impact of a broken neurology on the body can be extremely varied. But if one was to 'reset' one's neurology and cause it to fire closer to its proper rhythm, or homeostasis, well…
While I could not wrap my brain around this new discovery from Canada that was being explained to me, the fact that I was demonstrably experiencing it I could not deny. And so even though it was the last thing we intended, an hour later we were signing on for another business, and heading back to the U.S. the next day.
For us the decision made a lot of sense. In working with many people over the past several years, both in our wellness classes and one on one, we had come to recognize that when people are in pain they won't move – a critical component of health. If pain could be diminished without medication by some kind of neurological techwear and get people moving, wonderful!
When I arrived back in the states I wore my new style Neurotech socks continually for two weeks until I was convinced that my experience of extra energy, increased mental clarity, less pain and possibly more power was not due to a good nights sleep or what I had eaten the day before. The constant factor was the socks.
Two and a half years later a day has not gone by without the advantage of the tech. But what's been even more fun and rewarding is seeing others helped, some dramatically. The body is amazing, and we have so much yet to learn.