With limited space on the Tower Garden I always encourage customers to grow what they eat. When I started my first tower, I did not follow my own advice. So I ended up with some gorgeous Bok Choy and Swiss Chard. Yvonne's question was: "what are we to do with that?"
One day I noticed we had some leftover baked sweet potatoes. So I tried sautéing the Bok Choy with some olive oil, garlic and chopped walnuts, and then added the sweet potato cubed. It was amazing! And we have had it by request many times since.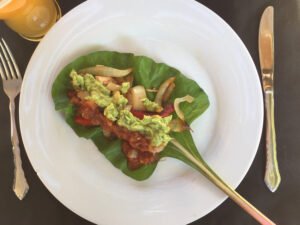 We had huge leaves of gorgeous Ruby Red Chard and happened to be grilling up some organic grass fed beef burgers. Would the leaves work as a bun? They sure did! Since then I have had several others try the same and we have come to prefer our burgers that way.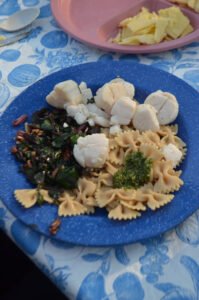 One of the surprising delights on this journey towards wellness is that growing new plants has led us into trying new food. It's like climbing a ladder: right hand, left hand, right hand… We grow plants to have food to eat. We find ways to prepare the plants because we have grown them. And the upward journey leads us into new tastes, flavors and textures.
What will be our food adventure tomorrow?